Ep. 170 Bob Murphy Dissects the "Shopping Cart Theory" Allegedly Blowing Up the Case for Self-Governance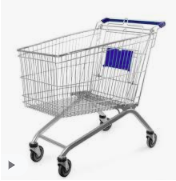 Recently Tim Poole alluded to the so-called "shopping cart theory" of why self-governance is impossible. Specifically, because people can't even bother to take back the shopping cart when this is clearly the socially right thing to do, we can't hope to have a system relying on everyone's good nature. Bob explains what's wrong with this argument.
Mentioned in the Episode and Other Links of Interest:
The audio production for this episode was provided by Podsworth Media.